"Exceptional cuisine that is worth a special journey"
– Michelin Guide
We visited once a 3 stars Michelin restaurant and that was not what we expected from a 3 stars restaurant.
We heard/read a lot of good stuff about restaurant Vendôme, so we want to visit this 3 stars Michelin restaurant in Germany.
It was a trip of 500 km from where we live and I can already tell you, It was so worth it!
Restaurant Vendôme is located in the Althoff Grandhotel Schloss Bensberg in Bergisch Gladbach – Koln, Germany.
The restaurant have a private parking but we didn't know that. We parked in the parking of the hotel. From the parking to the restaurant, it was a maze, the hotel is so big :p
Once we found the entrance, we had a very welcome from chef Joachim Wissler himself.
Restaurant Vendôme is opened in the year 2000 and after one year, they received their first star. The second star in 2002 and in 2004 they received their third stars.
Restaurant Vendôme scores also 19,5/20 in the Gault&Millau.
We had a beautiful table at the left side of the restaurant with alot of light.
We both ordered a different champagne to start our lunch with.
A Bruno Paillard and a Ruinart Rosé. Both champagnes were amazing.
Restaurant manager Markus Klaas came to present the menu and he reconized us from our Instagram. He is a very kind and friendly man and had a lot to say to us 🙂
We start our lunch with some exquisite appetizers.
Toffee (Foie gras caramel, Piedmontese hazelnut)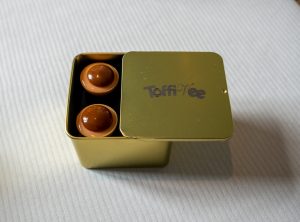 Borschtsch (Macaron), Croque Monsieur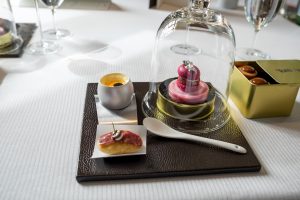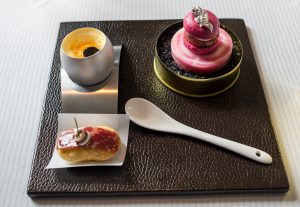 Snail Dim Sum (Sherry & Herb soup)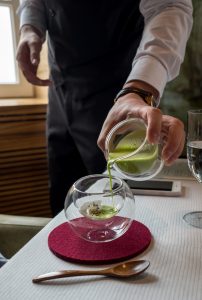 We started our lunch with the Langoustine and Walbeck Aparagus with coconut, elderflower caviar and soy vinaigrette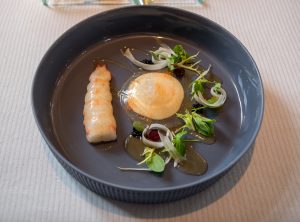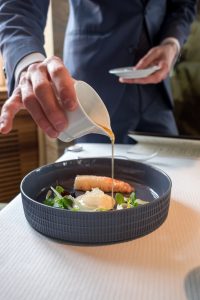 The second dish was the Brittany red mullet & Garden lovage with bouchot mussels and mumbai curry emulsion.
There was also a side dish: rice cooked with the stock from the mullet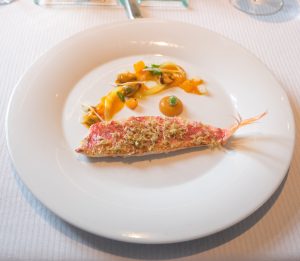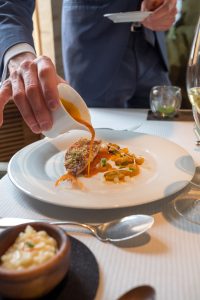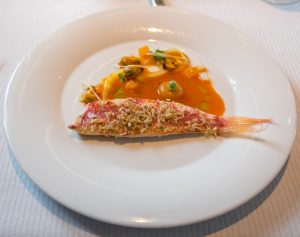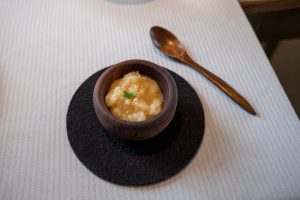 While waiting for our next dish, my girlfriend got a little tired because we woke up very early and had a long trip to Vendome. Marco Franzelin, the sommelier, noticed this and offered her a coffee to get some energy back. which was very attentive and we were very impressed by his gesture.
The third dish was a signature dish of the chef.
Ravioli with a twist.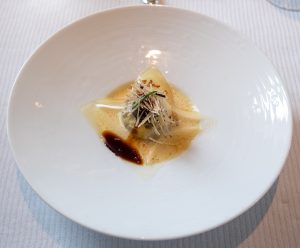 There is a translucent square sheet on top that´s there instead of the pasta. Its made from tomato water that has been turned into a jelly.
The filling looks like a table tennis ball, its marbeled mascarpone & truffle. The white sauce is a white tomato veloute, with some roasted mushrooms underneath.
A truffle tapenade on top as well as some truffle julienne.
There was also a 8 years old balsamic vinegar over it.
For the main dish, chef Joachim served the Challans duck & Fennel brittle with asian turnip, peanut and a chinese bouillon.
Here, we had also a side dish: Steamed bun filled with duck.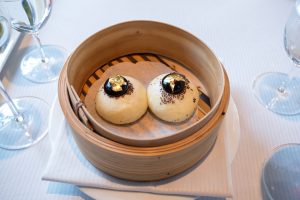 Dessert time!
For the dessert, we had the Woodruff, Beer and chocolate.
This dessert was a suprising one, the flavour of beer processed in a dessert. We never tried this before.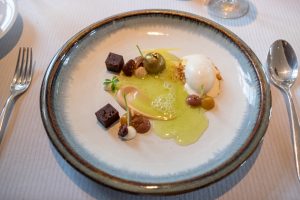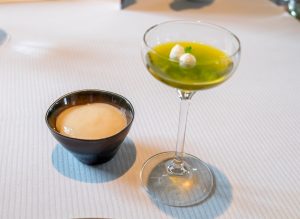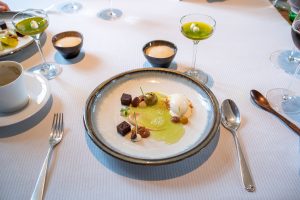 A lunch isn't complete without coffee or tea. Since my girlfriend already had a coffee, she ordered a camomil tea which was prepared at the table. Very nice!
I had a good coffee and the sweets for the coffee/tea were amazing!
Chocolate marshmallow (woodruff)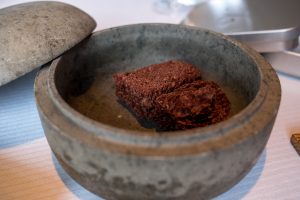 Magnum (café latte)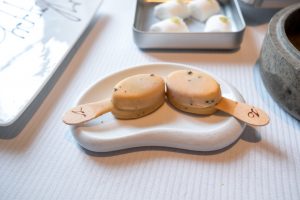 Aerated chocolate (mint and lemongrass)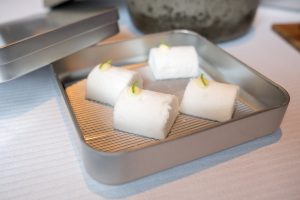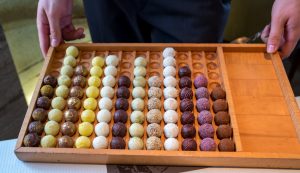 My girlfriend also received a birthday macaron. So kind of Vendôme!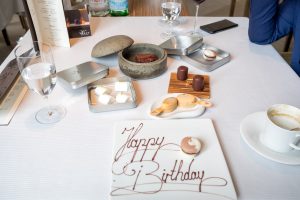 Our wines during the lunch. Perfectly selected!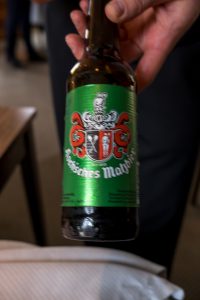 We really enjoyed our lunch at Vendôme, this was an unique experience.
And believe me, this is the best restaurant experience, together with restaurant Inter Scaldes*** until now.
Thank you chef Joachim, Markus, Marco and the whole Vendôme team for the unique experience and the yummy food! We will definitely come back the next time.
With a full belly, we drove back to Belgium 🙂
#Foodspotted
Foodspotted score:
Food: 9/10
Service: 9/10
Restaurant Vendôme
Althoff Grandhotel Schloss Bensberg, Kadettenstraße
51429 Bergisch Gladbach, Duitsland
https://www.schlossbensberg.com/restaurant-vendome